New 2020 Land Rover

Defender

Learn More About the New 2020 Land Rover Defender
The combination of luxury and capability in the new 2020 Land Rover Defender is something you must experience to truly understand. And while a test drive of the new Land Rover Defender at our dealership in Irondale is the best way to get to know this stunning luxury SUV, we at Land Rover Birmingham are here to tell you more about what you can expect to find in this new SUV.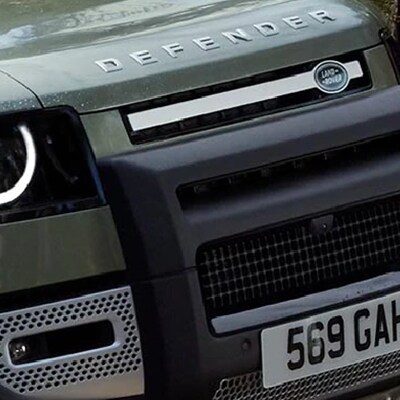 A Bold New Design
---
The styling of the 2020 Land Rover Defender is truly going to stand out around the Birmingham area. The squared body style includes rounded corners that give it a more modern feel. Round LED headlights are both utilitarian and attractive. And the two-tone paintwork will give you even more ways to express your style.
Take it Anywhere
---
The elevated ride height of the 2020 Land Rover Defender makes it perfect for taking on your biggest adventures yet. Clear obstacles with ease, confidently traverse rutted trails, and have no fear when dealing with steep inclines.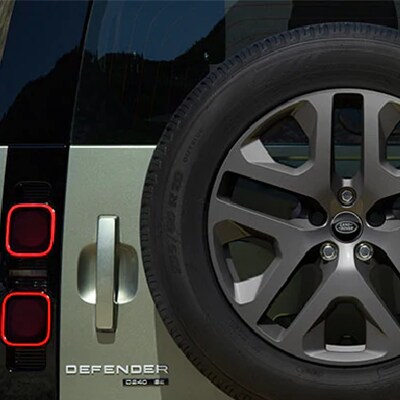 Modern Mobility
---
When viewed from the rear, the all-new Defender showcases charming taillights, a side-opening tailgate that makes it easier to load and unload gear, and a full-size spare wheel that's mounted on that tailgate. Overall, it's a winning combination of design and function.
Thoughtful Interior Design
---
The interior is equipped with durable materials that hold up to a lifetime of wear and tear, from grained leather seats to hard-wearing rubber flooring that's a breeze to clean after a weekend of adventures.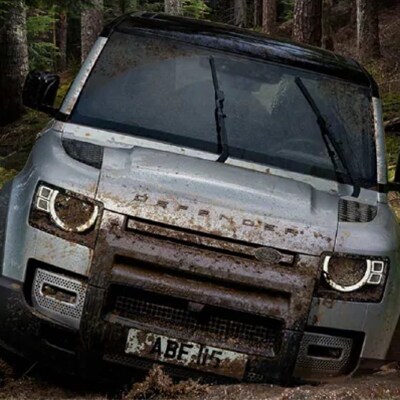 Water? No Problem
---
The 2020 Land Rover Defender uses a high-mounted air intake that allows you to wade through water without risking your engine. In fact, you can deal with nearly three feet of standing water without worry, so don't let a little water stand in between you and your destination.
The Luxury Off Roader
---
With premium leather upholstery, heated seats, and multi-zone automatic climate control, the 2020 Land Rover Defender is as comfortable as it is rugged. Go ahead and bring the whole family along for your tough off-road excursions - you'll hear no complaining from your passengers as they settle into their comfortable seats.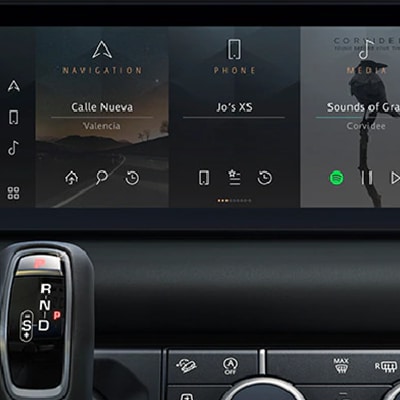 Versatility Inside
---
Much like the performance, the interior of the 2020 Land Rover Defender is versatile enough for almost any task. You can sit three-wide in the front row when you need room for an extra passenger, or fold up the rear seats to have space for seven.
It's All in the Details
---
You might not immediately think that your luxury SUV needs a cooler, but you'll have one with the 2020 Land Rover Defender anyway. Not only does this help you keep your drinks cool for a long day on the road, but it's one less thing you have to worry about packing before you head out.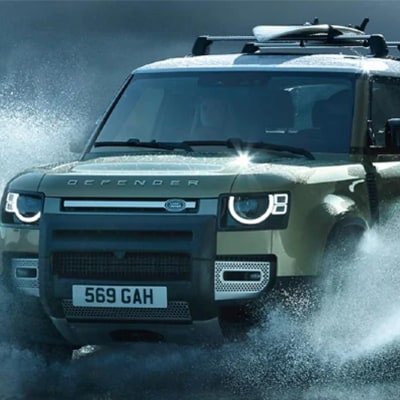 Wheelbase Options
---
Long and luxurious or short and nimble? With the 2020 Land Rover Defender you'll have a choice of two different wheelbases to give yourself the luxury off-road SUV that truly meets your needs.
Keeping Everyone Safe
---
This new luxury SUV offers more than just size to keep you safe. Advanced features like forward collision alert, blind spot monitoring, and adaptive cruise control will help you manage the world around you for a safer driving experience.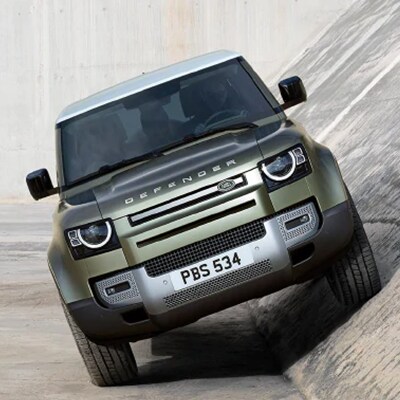 Exhilarating Performance
---
With engine choices that range from 296 horsepower to 395 horsepower, you'll have plenty of options to create your ideal driving experience. The most powerful engine even includes mild-hybrid technology that will help you save fuel when cruising around the city.
Personalize It!
---
The all-new Land Rover Defender is available with a variety of accessory packs that can help you embrace your ideal lifestyle. Whether you're a camper, a road-tripper, or just like to conquer rough terrain in your SUV, there is an accessory pack built to help you get the most out of your Defender.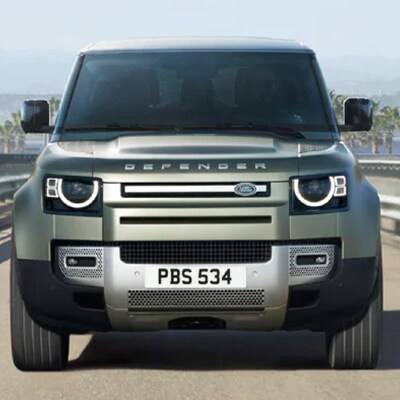 Unique Interior Touches
---
The Alpine Lights that sit above each passenger door offer not only added natural light, but a truly unique touch that will give a great first impression. Meanwhile, exposed structure elements speak to the utilitarian nature of the Defender SUV.
Rugged Exterior Accents
---
Whether it's the skid plates, bumper bars, or textured body protection, the exterior touches on the 2020 Land Rover Defender will let everyone know that this SUV means business.